On May 18, the opening ceremony of the First Hujiang International Cultural Park Theme Cultural Festival, themed "Inheriting Architectural Wisdom, Appreciating the Beauty of Architecture", was held at the Lawn facing the Nordic-Baltic Culture Center, sponsored by the Party Committee Publicity Department, the International Affairs Office and the Culture and Tourism Bureau of Yangpu District, Shanghai. Hu Lin, Vice Minister of the Publicity Department of Yangpu District, Party Secretary of the Culture and Tourism Bureau, Zhu Yinqi, Deputy Director of the Bureau, Ye Lei, Member of the Standing Committee of the Party Committee of USST, Director of the Publicity Department and Wang Lihui, Vice Dean of the School of Environment and Architecture attended the opening ceremony. The event was hosted by Xu Lin, Deputy Director of the International Affairs Office.
Ye Lei mentioned in her speech that University of Shanghai for Science and Technology is an institution of higher education with a long history of 117 years and is a national key cultural relic protection unit, and 32 modern buildings of Hujiang University are still preserved on the campus. This cultural festival is USST's initiative to integrate into the construction of the national heritage protection and utilization demonstration zone of Yangpu Life Show Zone in Shanghai. We hope to lead students and teachers to appreciate the beauty of USST's architecture with a rich humanistic feast, to read the historical heritage, unique humanistic landscape and wonderful diversified culture of the century-old campus from the buildings, and to keep the righteousness and innovation and forge ahead in the beautiful campus.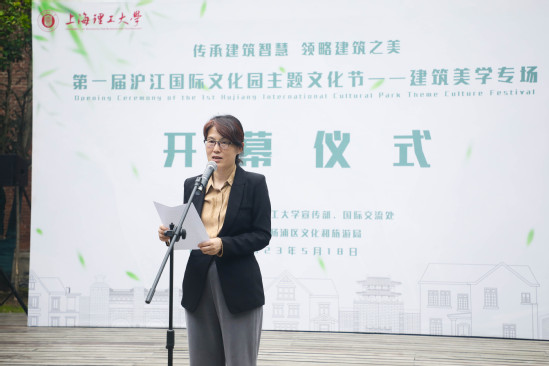 Address by Ye Lei
Hu Lin said that Hujiang International Cultural Park in USST is a shining business card of Yangpu, a place of historical heritage, humanities and intellectual concentration. We hope to further link up with the university in the future, to strengthen cooperation in promoting the protection and inheritance of red historical and cultural heritage and the restoration and utilization of cultural relics and buildings. By creating rich and colorful cultural activities, we can revitalize cultural relics and buildings, and make a positive contribution to the protection and inheritance of cultural heritage.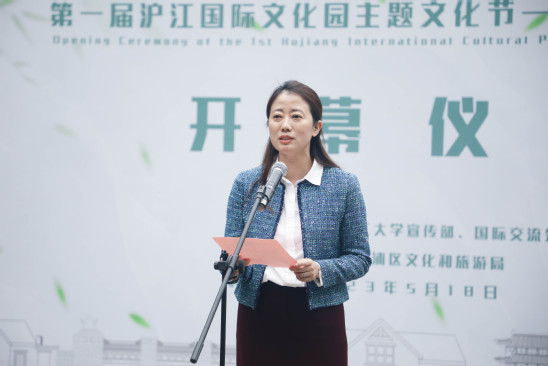 Hu Lin's speech
Dr. Phillip Williams from USST Fuxing Campus spoke on the theme of "Shanghai Architecture in My Eyes". A short video of the campus scenery attracted many students passingby.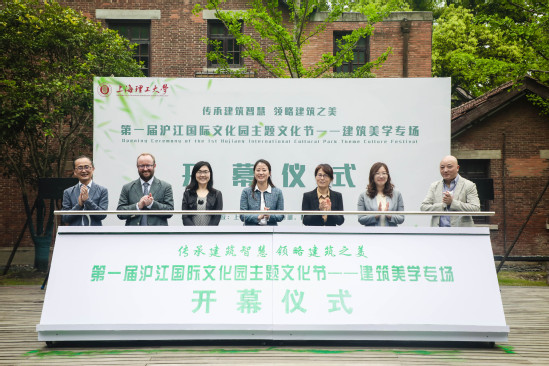 Opening Ceremony
With the launch of the festival, USST will design a series of activities around the theme of "Architectural Aesthetics" for students and teachers, including the "100 Years of Architecture, 100 Years of Hujiang" forum on architectural aesthetics, lectures on Japanese and German architecture and design, a tour of the outstanding historical buildings in Yangpu District, and a tour of the architectures in Yu Garden. We welcome all students and teachers to participate in the series of activities.